Hardness
Hardness is an essential property for any abrasive mineral, a measure of resistance to localized plastic deformation. The Mohs Scale lists the relative hardness of ten mineral types ranging from No. 1 being the softest and No. 10 being the hardest.  Fused alumina is listed at 9 on the scale and SiC sits at 9.1 and B4C is at 9.3. Hardness can be tested using the Knoop indentation method.  
Hardness is an inherent property of minerals, and through the fusion process, these minerals solidify as very large crystals making them  usable in very coarse or large grain sizes. 
Toughness
For an abrasive or refractory mineral to have commercial applications it needs to have good toughness properties.  Toughness the maximum amount of energy a mineral can absorb without fracturing. 
Typically minerals which have high hardness are brittle and have low toughness.  So how does one produce a tough abrasive?  Here there are several approaches: Brown Fused Alumina is very tough due to the bonding of larger alumina crystals.  The fusion process produces very dense large alumina crystals surrounded by grain boundaries which impart toughness to the mineral.  Reducing the amount of grain boundary material results in less tough or more friable abrasives. Another approach is to produce a mineral with a very fine crystal structure of eutectic composition such as ATZ.  This abrasive can only be produced using the fusion process and by  quenching the melt to obtain a very fine crystal structure which has residual stresses.  This abrasive is very tough and has self-sharpening properties.
The fusion process also is used to produce refractory minerals which are fully reacted with virtually no porosity resulting in products which are superior to those naturally-occuring or produced by sintering.  Here toughness of refractory products is optimized by the control of chemistry, crystal growth, and porosity via the fusion process.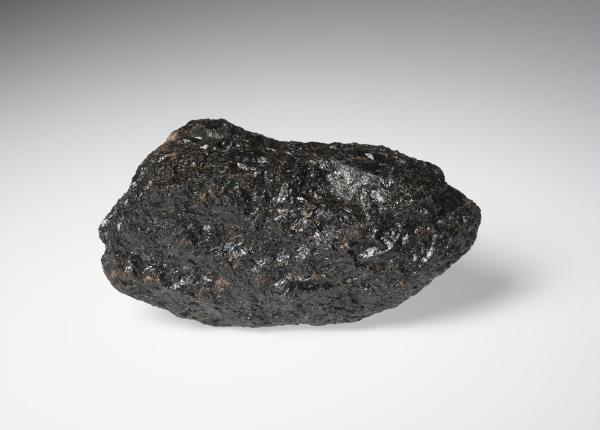 Shape
The shape of fused mineral grain particles is an important factor for measuring functionality. For example, the manufacture of grinding wheels requires an abrasive grain shape that is blocky but having sharp edges.  A blocky grain is tough and offers a long life and better metal removal properties. Coated abrasive products, such as paper or cloth, perform best when the grain shape is angular.  An angular abrasive grain has slightly lower toughness but stays sharp longer due to its more elongated shape.  Refractory shapes can achieve maximum density when using minerals which have blocky shape.  Fused refractory minerals, which have very low porosity are crushed and processed to having a blocky shape. A common method of measuring grain shape is by measuring the minerals bulk density.  Using a microscope is one way to determine grain shape on powders, another method is to measure circularity using a SYSMEX FPIA 3000.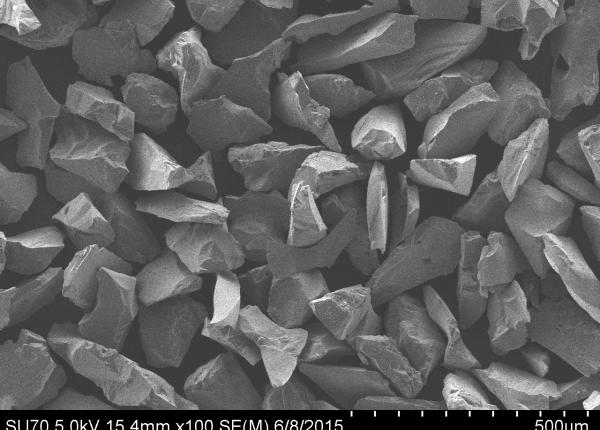 Crystal Structure
For alumina-based abrasives, it is desirable to have the alumina in the alpha-alumina phase. Alpha-alumina is very stable at low through high temperatures and has high hardness making it an excellent mineral for grinding and other applications. 
For alumina-based refractory minerals it is desirable for the alumina to be in correct combination with other oxides in order to exhibit consistent desired properties in industrial applications. 
Crystal size is controlled by controlling the solidification rate of a liquid during furnacing of these minerals.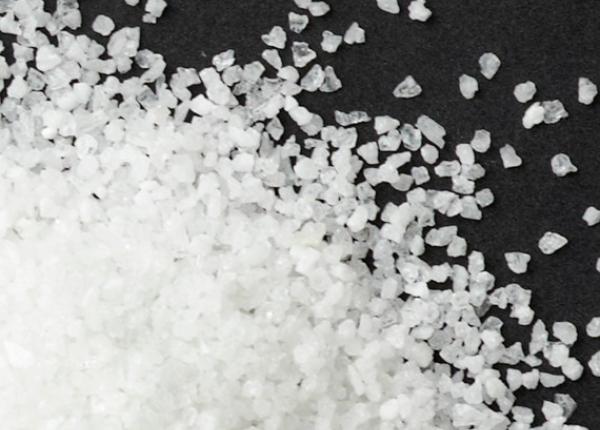 Thermal & Chemical Properties
Fused aluminas are formed at elevated temperatures offering thermal properties that are welcomed in the industrial marketplace. The melting point of fused alumina is estimated at 2040°C, however it starts to soften below at approximately 1750°C. Fused aluminas are used to manufacture refractory shapes due to the ability to heat up and then give off heat. A good example would be the use of fused alumina's in furnaces. Chemically, fused aluminas are one of the most stable ceramic materials available due to being inert against most chemical reagents in extremely high temperatures and pressures.
Quality and Selection
Exceeding quality expectations since 1868